Read Troy's bio
Troy Tousana, Sr. was raised in Batavia, attended Louise White School, Batavia Junior High, graduated from Batavia Senior High and earned his Associate Degree in Computer Science from Waubonsee Community College and his B.A. Degree from Northern Illinois University. Troy is employed at Experian in Schaumburg, Illinois. Troy officially became active as a township trustee in January of 2020. He has been active in other organizations in the community for years including Batavia Youth Baseball, Batavia Youth Football, Tri-City Soccer Association, Batavia Elite Basketball, Royal Family Kids Camp and served on the Batavia Brotherhood Committee. He and his wife Ann have four children and all were raised in Batavia.
Read Walter's bio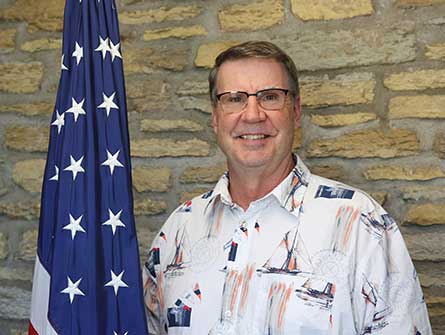 Read Tom's bio
Tom Sharp has lived in Batavia for twenty years. Throughout his career, he served as the training manager for manufacturing companies in the Chicago suburbs. Now that he has retired, he has more time for his hobbies including bicycling, table tennis, and woodworking. He has been the president of the Fox Valley Woodworkers for over twelve years. Tom and his wife Diana enjoy spending time with their two married children, Jessica (and Alfonso) and Will (and Crystal) and their four grandchildren. They share their home with their new border collie puppy Penny.
Read John's bio
John West is a lifelong resident of Batavia and worked for the City of Batavia for 34 years.  Now retired, he enjoys all types of handyman projects and is also involved with self-help groups in the Tri-Cities area.   Together, John and his wife Karen enjoy bike riding, gardening and everything outdoors.